Data has become a vital corporate asset, influencing many crucial business decisions, marketing campaigns, optimized operations, and cost reductions to increase sales and profits. Hence, it should be managed effectively to ensure its accuracy, availability, and accessibility to meet the needs of a company. And nowadays, data no longer remains esoteric, that only a selected few are privy to. That is because data is even more fortified when people collaborate, giving rise to insightful ideas and translating them into action.
Slack is a real-time communication platform designed for businesses. It offers a fun and better way to communicate remotely with your co-workers and even those outside your organization. However, it is more than just an instant messaging tool; it is also where users can share, search and archive files. It promotes collaborations with the help of over 1000 integrations with leading apps and other external resources like Facebook Ads, Google, and Instagram. It's essentially doing smart business if you've seen one.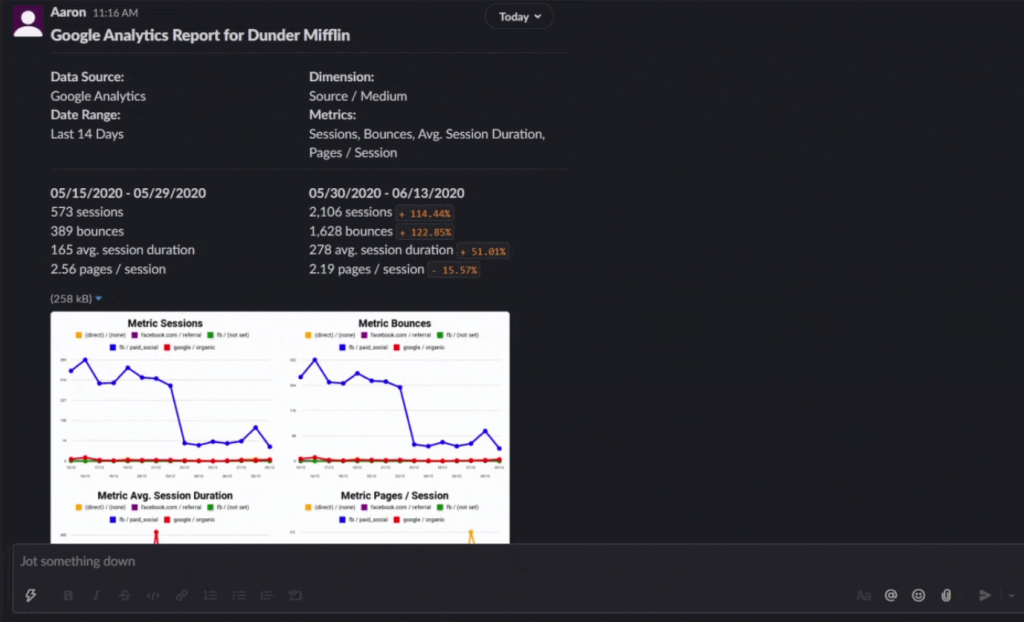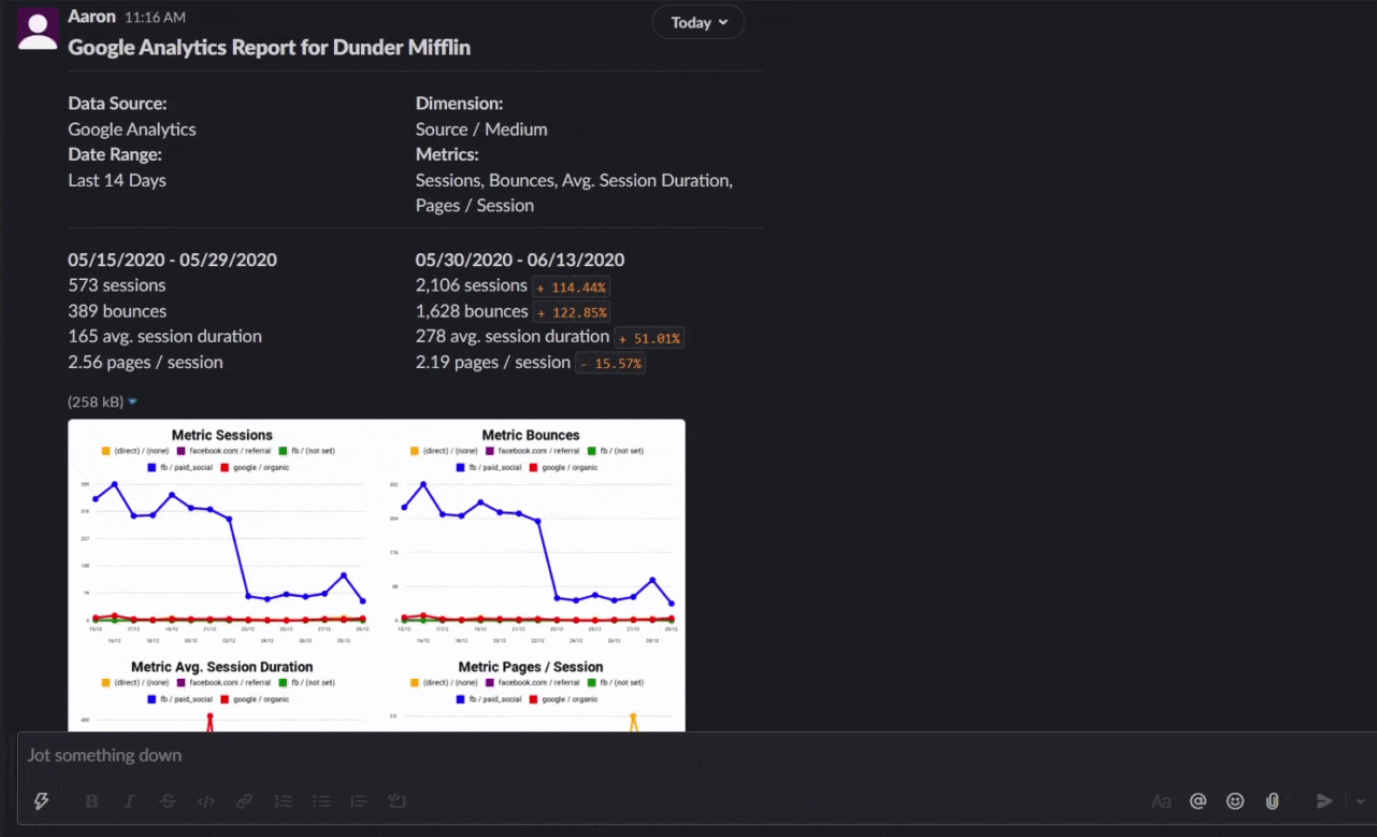 Share data instantly
Given that many companies are now communicating through Slack, users will keep their software open for at least 8 hours a day. As such, it's easier to send data files to another user directly or to a particular channel. You don't have to toggle with your email inbox to receive data which has become overwhelming to monitor alongside text messages and Skype conversations. And with a wide range of available integrations, you can have seamless data built into your Slack platform for easy reference.
Get relevant metrics from Facebook Ads campaigns
Facebook Ads produces valuable information which helps you focus your marketing efforts on Facebook. As a marketer, you want to monitor your ad performance and learn how they convert into actual sales using your data on clicks, impressions, and CPC, among other available metrics. Connecting Facebook Ads to Slack makes for an organized workflow. Slack lets you sync leads and other triggers from Facebook Ads automatically; no data import and export necessary. As such, users who are your salespeople, for example, can contact these leads. They may send a DM or a channel message regarding this lead after that. You can set the status of this lead from Facebook ads in Slack. Other data and reports on your Facebook ad campaign performance can be viewable in Slack and elicit immediate action as required.
View cost data and conversion reports from Google Analytics
Users can get reports related to their business while in Slack. It is recommended that you use Optimo Analytics to link to your GA account. At the same time, you should install the Optimo Analytics app in Slack. You can control who gets to see the reports or which channel you will post them in. The reports can be configured by duration, whether daily, weekly, or monthly. Since such data from GA are made available in Slack, you can discuss results in channels and work on improvements together if needed.
Monitor your daily account growth from Instagram Business
A marketer channel in Slack provides free digital marketing, lead generation, and sales hacking community. Its smooth integration to Instagram Business allows interacting with other team members who share a common goal of optimizing conversion rates using digital strategies like SEO, SEM, and others. Users can also get access to all sorts of analytics related to engagement, hashtag usage, followers, content, profile, etc. You can utilize data to learn how engaged the followers are or if your content appeals to your target market.
Improved data quality
Since it's easier to share data with others when in Slack, it improves its quality based on your feedback from other users who see it. Some alerts and signals prompt the concerned persons to update your data to help keep it accurate. Direct access tools that streamline workflows are also available. At the same time, it reduces context shifting, preserving your data's integrity. The effect of data quality cascades to better actions and strategies that result in the improved final output.
Active collaboration
The beauty of using Slack for importing and exporting data is it involves others in the process. With all team communication in a single place, working together, and keeping people in the loop, you enable coaching and get more perspective and ideas that can impact your prospects. When there are issues in the reports, you can spot them earlier and get to resolve them alongside others since they can access them, too. Meanwhile, you can also assign users to particular channels as necessary to keep the topics visible only to them. This way, you can spare others from getting notifications unnecessarily while still keeping the opportunities open at connecting and collaborating.
Accessible data at any location
With more employees having work-from-home arrangements, you can check Slack not only through your work computer but also through your smart devices. It has a mobile app that allows you to stay connected even if you're at someplace outside, yet you need to monitor a task or wait for a file to be sent.
Secure data
While there is practically no hack-proof program, Slack has fared well in this area since it began. A strong password and using two-factor authentication will help protect your account.
Paid Slack subscriptions such as Slack Plus have security features such as SSO and active directory sync. Slack also mitigates the risk of sharing sensitive data by integrating data loss prevention solutions. Such includes usernames, passwords, and customer information. Meanwhile, Slack's data center is located in the US by default, but there is also an option where international teams may choose a country or region where they store data.
Final thoughts
Slack offers more data accessibility and collaboration than one can get from a standard messaging platform. Its most attractive proposition is the fast, secure, and seamless integration of data analytics and reports from leading resources like Facebook, Google, and Instagram. It provides a wealth of tools to facilitate individual and team tasks across various platforms and devices.